Pipe leak update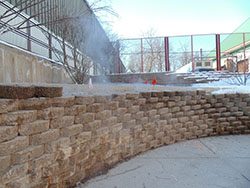 In mid-November, Libertyville High School experienced what can only be described as an  "annoying" odor emanating from the PE, lower main hallway, and pool areas of the school.
According to buildings and grounds director Mr. Chris Stancil, the odor was a result of a broken steam pipe located outside the pool exit doors and was compounded by the superheating of organic compounds underground. As determined by EPA testing companies, the gas was found to be no more than a nuisance, posing no significant health or safety hazard to staff or students.
"Our biggest concern was to make sure everyone in the school was safe," Stancil said.  "Once that was taken care of, we started moving forward."
Within a couple of days, LHS maintenance made the decision to pressurize the boiler room located below the pool so as to draw the steam out of the building and deter the odor. The option of manually repairing the pipe would entail extensive and potentially hazardous construction, as any misstep could result in damage to one of the other two water lines that control the entire heating system.
For this reason, a decision has been made to postpone construction until spring and to continue operating under the temporary conditions for the time.