Reduce. Reweigh. We Wrestle.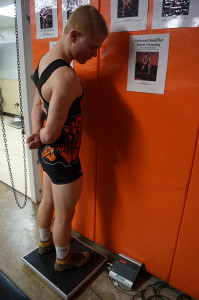 Don't mistake this 5-foot, 2-inch, 120-pound man to be anything short of incredible. Starting wrestling in eighth grade, Steve, or as friends may call him, Stevo, Polakowski was an amateur wrestler. But with hard work, by the end of eighth grade, he ended up qualifying for state and decided to stick with wrestling. Then, as a freshman, Polakowski went to watch the high school state tournament and from that day on, he decided he really wanted to pursue wrestling.
Polakowski was then determined to reach his goal of winning state and was going to do anything to reach that goal. He was nominated most improved wrestler his sophomore year by his team. Additionally, in both his sophomore and junior year, he went to state, but was defeated in the preliminaries. His junior year was fantastic; his record was 40-5, plus he won conference, regionals, and sectionals.
Pre-Season:
Many people think that wrestling is a one-season sport. But actually, it is year round. Right after the wrestling season ends, pre-season begins. Pre-season is as important, if not more important, than the actual wrestling season. Polakowski and other wrestlers from LHS go to Mike Poeta's Wrestling Club in Libertyville three times per week and practice wrestling with some of the best wrestlers in the state and some of the best coaches in the country. In addition to wrestling, they also hit the weight room at least three times a week.
There are also a couple tournaments throughout the pre-season to help Polakowski and his fellow teammates see where he compares to the other wrestlers. Polakowski did very well during these tournaments; he took eighth place at the freestyle national in North Dakota this July. Another huge accomplishment for Polakowski was winning the preseason national in November in Iowa. Doing very well doesn't come easy for Polakowski and his teammates. They work hard during pre-season to prepare for the upcoming season and do everything they can to get better.
Wrestling Season:
This is where all of his hard work pays off. It is also when the horrendous workouts and starvation begin.
Working out almost every day of the week while not eating very much can get exhausting for many wrestlers.
Despite the fact wrestling can be very tough and exhausting, Polakowski has never had any doubts about quitting wrestling. He loves the sport with all his heart and couldn't imagine his life without it.
"Without wrestling something would feel missing. I really have no idea what I would do without it. I would probably be really bored," he said.
A lot of people underestimate how hard wrestling actually is. The amount of strength and stamina that goes into the sport is unbelieveable. Weight lifting, cardio, drills, dehydration, and starvation all mixed together make a very tough sport, both physically and mentally. Senior Chris McDermand, another teammate to Polakowski, agrees that wrestling is a very difficult sport.
"It [wrestling] requires so much dedication, mental toughness, and a lot of hard work. You have to be willing to give up a lot of time in order to be a wrestler," he said. "All wrestlers are crazy in some aspects; you really have to be in order to succeed."
The friendships that Polakowski has made from wrestling makes up for all the starvation, dehydration, and tough times during wrestling season. He really enjoys getting to see all of his teammates at practice everyday because they motivate him to do better. In addition, they make his day more enjoyable by making him laugh and smile no matter what the situation is. A lot of Polakowski's teammates have been wrestling together since eighth grade, so they have become very close with one another. Both McDermand and Koziol agree that wrestling is the main reason why they've become so close with Polakowski.
"Wrestling made us closer just from the countless hours and early mornings together having to work out, lose weight, or compete," said Koziol. "When you experience such awesome things like setting school records with each other and such tough things like losing close matches in the state tournament, there's nobody I would rather do it with than my team."
Polakowski's work ethic is not found in many guys his age. Anything that he needs to improve on, he will do his best to do so. He and other wrestlers will even go in on Sunday mornings if they felt they didn't perform as well as they wanted to in their previous meet. Mr. Dale Eggert, Polakowski's wrestling coach, said that Polakowski's work ethic in wrestling is one of the best, if not the best, that he's ever seen.
"He is willing to spend whatever time is necessary to get better as a wrestler," Mr. Eggert said.
For example, in July there was a tournament in Bloomington. Polakowski told Mr. Eggert that he was not going to be able to make it. Then, the next week, when Polakowski saw Mr. Eggert, he told him that he did very well in the tournament. Mr. Eggert was shocked; he couldn't believe that Polakowski actually went to the tournament.
"For every 10 guys that say they are going to an off-season [tournament], 5 will go, for the other 5 'something will come up.'  No one says they can't go, then go, especially if the tournament is 3 hours away," Mr. Eggert said.
The Future:
The future looks promising for Polakowski. His goal this year is to win state. Though that is not going to be an easy task to complete, Polakowski works hard everyday to improve in wrestling. Koziol thinks Polakowski is the most determined person he has ever met.
"He knows what his goals are and does whatever it takes to achieve them and if he falls short, it motivates him even more," said Koziol. "As a teammate, Stevo helps motivate other people and make them realize how much they can push themselves and make themselves better."
Polakowski is going to continue his career in wrestling after high school. The decision of where he was going to commit to wasn't easy though. He started talking to the coach at the University of Minnesota after he won the preseason nationals. Then, he took an official visit there and stayed overnight for the weekend with the wrestling team and loved it. He was also getting scouted by the coach at the University of Illinois, but when he visited there, he didn't feel the same chemistry with the wrestling team as he did with Minnesota. Because of this, he committed to the University of Minnesota on November 13.
"I'm very excited to be going to Minnesota! It has one of the best college wrestling programs in the country and I'm excited to be a part of that," he said
Wrestling Their Weight:
Wrestlers are going to the extreme to do anything to lose weight. According to Mike Viscardi from Vanderbilt University, in 1997 three college wrestlers died from hazardous dehydration techniques in order to lose extra weight. One of the wrestlers, Jeff Reese from the University of Michigan, was trying to lose 17 pounds in two hours to qualify for his first college wrestling match. His body couldn't handle working out in a rubber suit in a 92-degree room and that resulted in death. The other two athletes died from riding a stationary bike without being replenished with any liquids. These extreme dehydration techniques can result in kidney failures, heat strokes, and heart attacks. Because of the deaths, it is now illegal for all wrestlers at any age to use rubber suits or saunas to lose the extra pounds in water weight.
In the two-day tournament over winter break last year, junior Joey Gunther, a fellow wrestler to Polakowski, said he was overweight by eight pounds the day before the meet. He knew that he had to make weight in order to be able to wrestle, so on the bus ride to Harlem, where the tournament was held, he rode a stationary bike the whole way down. Then, after he wrestled three matches, he went back to the hotel and worked out again. This time he rode a stationary bike with two sweatshirts, two pairs of sweatpants, a long sleeve t-shirt, and a winter hat on from 9:00 p.m. until 12:00 a.m. This didn't even get all of this weight off; he still was three pounds overweight. Because of that, he had to wake up and workout from 5:00 a.m. until 6:30 a.m. the next day to get the rest of the weight off. When he finally got all the weight off, he had to wrestle three matches.
Though senior Austin Koziol, teammate to Polakowski, doesn't have to cut much weight this year, in past years he has had to experience what it is like to starve himself to make weight.
"Having to go through practice on no food and not being able to drink water during the 'water breaks' is one of the hardest things to put your body through. Most people don't realize what it's like to go 24 hours without water, no food, and still have to lose a few pounds. It takes a lot of focus and mental toughness to commit to a weight class," Koziol said.
According to Polakowski, the average wrestler has to cut their weight between 5 and 10 pounds throughout the season. Wrestlers have to watch their diet and work out constantly to lose this weight. Here is a look to a typical week of what a wrestler eats and a typical week of workouts: