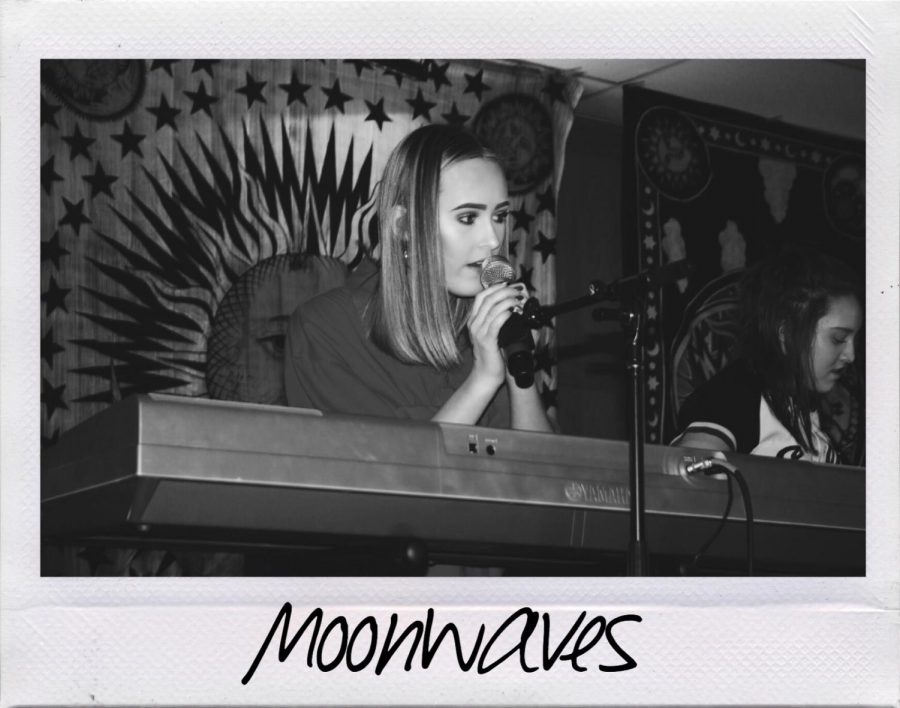 Photo by Kelly Shinnick; Edited by Lola Akinlade
Moonwaves
Senior guitarist Christina Simley was in a band with her brother around three years ago, but when he left for college, she wanted to continue playing in a band and gathered some people together. It began with her and senior bassist Anya Caples from Vernon Hills High School. They started a band called Deleted Scenes, but Simley said they didn't mesh well together when performing. They decided to ask an old friend, singer and pianist Darby Barnett, a senior from VHHS, to create a new band with them.
They were searching for the right drummer to fit their band and eventually Simley met junior Evan Hill in jazz band and thought he was a great drummer; she asked him to join their band. Once every member of the group was found, the band name came to Simley when she was in her car. The sunlight coming through her car windows inspired her to come up with the name "Moonwaves."
Once the band started playing together, they immediately had great chemistry. Every member of the band really loves playing together and connecting with one another through music.
Caples cherishes being a part of the band because "you get to know people in different ways and you get to work, create and look at things differently." Hill enjoys playing because it "spread[s] love instead of hate." Simley added that she "[plays] music because it's fun and relaxing."
The group agrees that their sound takes after a lot of indie bands ranging from American Football to the Kooks. They also find themselves getting frustrated when learning new songs because it's difficult to add their own influence at first. Once they get the hang of learning a new song, their sound comes to life.
This is most likely the last year for Moonwaves because three out of four of the members will be headed off to college next year. They plan on still playing together as a hobby over breaks; however, Barnett is pursuing a career in music, so she is excited to see what's in store for her future.