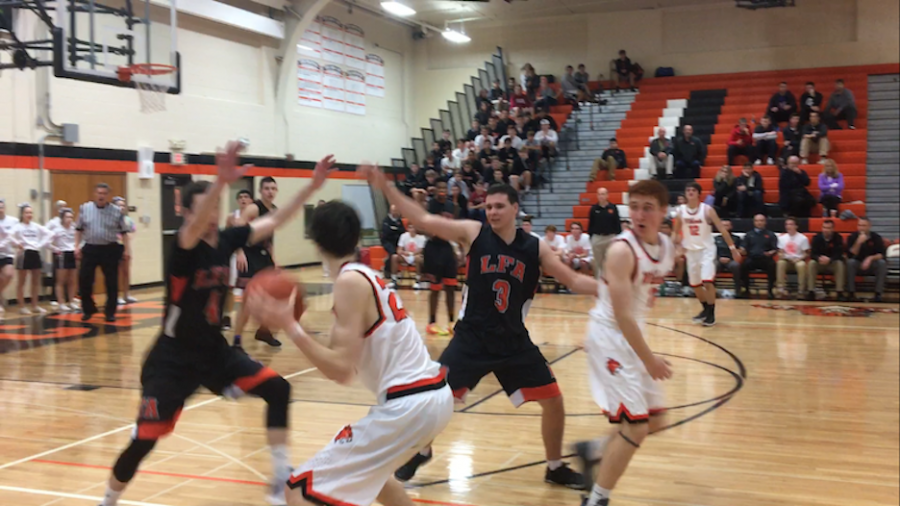 Kyle Patterson
Despite a long and hard-fought game, the boys varsity basketball team lost to Lake Forest Academy (1-1), 63-57, in their home opener on Wednesday, Nov. 30.
The loss was especially bitter because the Wildcats were winning for the vast majority of the game, from the first quarter all the way to the last two minutes of the fourth quarter. Head coach Brent Mork attributed the loss partly to player inexperience, saying after the game, "We're a young squad. We don't have a lot of varsity experience out there."
Libertyville got off to a strong start, immediately scoring within the first minute and maintained their lead throughout the half. Junior Drew Peterson led the team in scoring, putting 18 points on the board, while fellow junior Ryan Wittenbrink was not too far behind with 13 points. The Cats finished the first half leading 30-24.
The Cats maintained their lead in the third quarter, but LFA continued to remain in striking distance. Their starting guard, Chris Harris, proved to be an effective playmaker that kept them in the game. Starting in the fourth quarter, LFA began to slowly chip away at the Cats' lead.
 The game ultimately came down to the last minute and a half. With the score 53-51 Libertyville, LFA's Tyler Grumhaus scored on a layup, followed by a successful free throw from Harris on the same possession, making the game 54-53 LFA. Although Peterson scored a point on his own free throw and Wittenbrink scored a three-pointer, the Cats generally struggled to get points on the board as the game was winding down. LFA continued to score, and a layup scored by Harris gave them a six-point lead with less than 10 seconds left to seal the deal.
The loss left the Cats with a 1-5 record. "We just gotta keep learning our lessons and understand that it's a process," said Mork. "Hopefully at the end of the day, when we get to the end of the year, we'll be where we want to be."
Libertyville will be on the road again next week as the team faces off against Warren Township High School next Wednesday at 7 p.m.