Four Corners
From a young age, the following students showed a passion for politics, stemming from a curiosity about the world around them. As they entered high school, their curiosity only became stronger while thriving in political clubs such as debate.
Conor Kennedy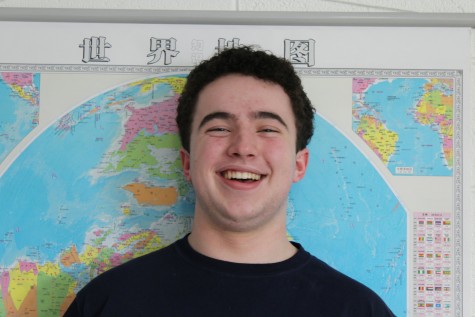 Ever since elementary school, Conor Kennedy described himself as a "hardcore liberal," and from then on, his fervor for politics emerged.
Kennedy, a junior, distinctly recalls instances in the fifth grade where he had heated conversations with friends about what news channel was biased and which one wasn't. In high school, he moved onto more important issues, discussing economic imbalances and different countries' policies.
He currently excels in the clubs Model United Nations, Junior State of America, and debate. The main reason Kennedy decided to form the club JSA this year was because of his desire to talk about domestic politics freely.
One of Kennedy's main inspirations for politics stemmed from his family. Kennedy's dad ran for office in 2012 for Lake County State's Attorney, and even though he lost, through that experience, Kennedy discovered that leadership was something that he wanted to be part of.
"My family in general is really involved in politics. My grandma right now, she volunteers for Bernie Sanders. She's done political organization forever, since the civil rights movement. So, I think that culture of political activism in my family has cultivated in an interest in politics for me," Kennedy stated.
Sophomore Aaron Chen, who is on the debate team, describes Kennedy as being equipped with an  "immense knowledge of history and in-depth politics, seeming to know everything there is to know about resolutions (debate topics)."
Chen characterized Kennedy as an "exceptional debater," however, this title comes attached with many obstacles. When asked what the hardest obstacle to overcome was, Kennedy responded: "I think it's thinking on your feet, and being able to come up with arguments really quickly is what helps you succeed in those clubs… some other people propose solutions and put forth arguments that are really good, but you can't just be like 'I agree with that.' Because for debate, you are trying to win a round. You have to win black or white.
"Even in Model UN, when you are trying to put forth a solution that is a compromise, you can't lose that sort of ground when you are in a debate trying to be the frontrunner for your resolution."
As for the upcoming 2016 presidential election, Kennedy described who he wanted to see as president and why: "We see every day the economic imbalances of our society. Even if you just look a few miles outside of Libertyville, you can see other under-served communities that have become that way or kept that way because of economic imbalances. And that's what Bernie Sanders is trying to solve, which is why I support him."
Fellow debater and friend Emily Regan portrayed Kennedy as "hard-working, sassy, and kind of pretentious, but he is a very good debater and he always knows exactly what he is talking about."
Emily Regan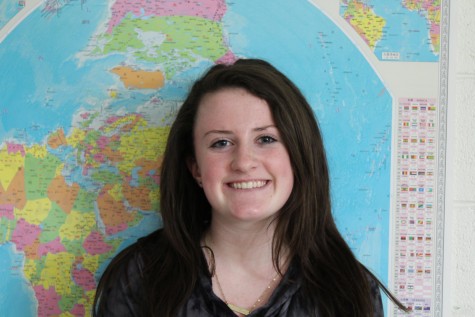 Since the seventh grade, Regan has been interested in politics; however, her passion truly flourished when she first entered through the doors of high school.
"I was always interested in politics, but probably joining the debate team and coming to high school and meeting other people that were really interested in politics sparked my involvement and my want to be more involved in politics," Regan, a sophomore, stated.
Regan finds that the most interesting part of debate is the interaction with foreign policies and being able to see every side of an issue through various forms of debating.
Allison Tong, who is a teammate of Regan's, explained that Regan's raw passion for politics is evident through her determined spirit.
"Emily is one of the hardest working people I know. I can always count on her for encouragement and a laugh. She's always prepared and excited for every tournament, and I'm so grateful to be her teammate," Tong stated.
Along with Kennedy, Regan is engaged in the political clubs JSA, Model UN, and debate. So, time management can difficult, but Regan doesn't neglect the importance of her clubs.
"I just put in the extra time, and I just do it during my lunch and after school. So, I kind of just regard it as another class, and treat it the same," Regan stated.
Sophomore Aaron Chen is a friend of Regan's and is also a member of the debate team. Chen acknowledges the influence Regan's presence has on the team.
"Emily is most definitely the most passionate about debate and about politics in general. Her drive and motivation exudes positive vibes throughout the debate team in a way that pushes each and every one of us to try our best," Chen stated.
Regan won first place in debate once last year and twice this year, and still continues to grow. Regan says her "key to success" is practice.
"I think practice [is the most important skill in becoming a good debater], that's in like anything. We write our cases and then we always do mock debate rounds with other people. And the same goes for Model UN, we have practice committees. So, just getting more familiar with it and the topic is an important technique to have as a debater," she mentioned.
As of right now, Regan is running for Student Council Executive board, but In the future, Regan hopes to pursue politics on a grand scale.
"I want to run as president, but I want to be a lawyer first," Regan expressed.
Cynthia Capota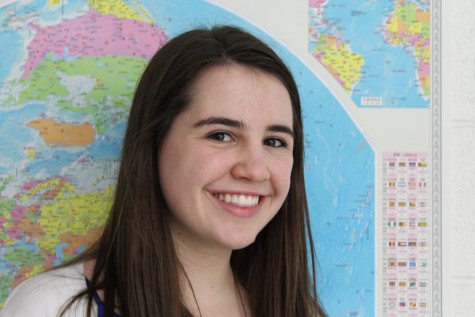 From a fifth grade 2008 mock election, Cynthia Capota realized politics was something that she wanted to get involved in.
Capota, a senior, is an avid member of the political club debate. Mr. Dennis Duffy is Capota's Lincoln-Douglas debate coach and also teaches current issues and government at LHS. He stated that "Cynthia brings a passion for her cases that is gratifying to see."
Capota experiences constant shifts in her political views, shaped by the changing world around her.
"My views have evolved a lot. I've gone from liberal to conservative, back to super liberal. But I think that's all just part of understanding the world and times we are living in. I think the fact that I've known what it's like to have conservative and liberal views makes me understand more where people are coming from, and I think it makes argumentation a lot easier," Capota stated.
Capota's interest in politics stems from her opinionated personality and her emphasis on the impact politics has throughout the world.
"I am a really opinionated person. I have an opinion on literally everything, that's just how I've always been. And I think it's important because politics goes hand-in-hand with policies that all the politicians are instituting, impacting how day-to-day life gets handled, how people interact with each other, how people spend money, and how people just live. So, I think it is important to be involved in that and to have a say in what is going on in our country, otherwise it's not really a democracy," Capota stated.
Fellow debater Conor Kennedy expressed his opinions on the influence that Capota's leadership has on the team.
"Cynthia is very commanding and a little controlling, an alpha if you will, but it works because of her dedication to the team. She has very strong debate skills, and her leadership has helped the team to be successful this year," Kennedy stated.
For Capota, one of the most challenging aspects of debate is arguing for a side that you don't agree with.
"Sometimes you have to argue a side that you really don't believe in, but you are still going to have to take that stance, and argue through it. Sometimes I argue Marxism not because I believe in it, but because it works in my debate cases," Capota explained.
Elizabeth Murphy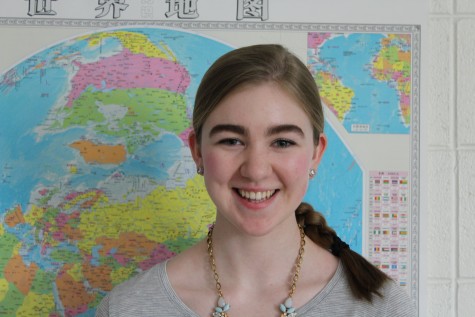 It all started in a room full of eager sophomore students in an AP Euro classroom. This is where Elizabeth Murphy started to figure out who she was, while forming firm political views.
Murphy's interest in politics originates from the idea that there are always two sides to every story.
"I think it is really interesting that there are always arguments on each side. And you can always have an argument as long as you support it with something. In debate, you can make a crazy argument, but as long as you just support it with facts or a logical flow of arguments, then it will work," Murphy, a senior who is an active member of the political club debate, stated.
In the upcoming elections, Murphy has settled on not voting Republican, while most likely leaning towards Hillary Clinton because of her socially liberal and moderate fiscally liberal views.
Friend and fellow member of debate Cynthia Capota characterized Murphy as  "one of the nicest people I have ever met in my life. She is really hard working. She goes out of her way to make sure people are happy. She is kind of shier before you get to know her, but once you get to know her and she is out of her shell, she is just the most fun person. As a debater, she is super passionate and she just loves debate and getting up there and speaking and the rush you get from debating," Capota shared.
When analyzing what separates a good debater from a great debater, Mr. Dennis Duffy, Murphy's Lincoln-Douglas coach and teacher of current issues and government at LHS, explained that Murphy's "strong work ethic, excellent research and writing skills, incisive analytical ability, ability to think on her feet, and the ability to persuasively write and speak" make her a successful debater.
According to the Webster Dictionary, Lincoln-Douglas debate stems from a series of debates between Abraham Lincoln and Stephen A. Douglas in 1858, when both were campaigning for election to the United States Senate from Illinois. Much of the debating concerned slavery and its extension into territories such as Kansas. Now the term is used to describe debates centered around moral theory.
Although Murphy doesn't hope to have a future in politics, but rather one in chemistry, according to sophomore Aaron Chen, who is a member of the debate team, "Elizabeth always has a positive impact on the debate team with her bubbly and enthusiastic personality… and has been an exceptional leader this year."