Hard to believe: Last first day of high school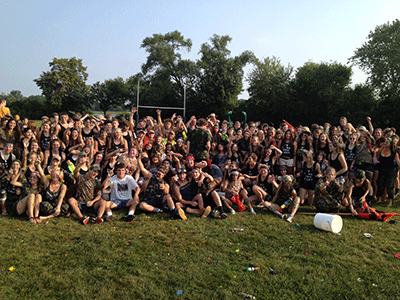 I woke up at 6 a.m. to find myself getting all geared up for the first day of school. For us, our first day outfit was not a skirt or dress, but a tank top that said, "Seniors '14."  In addition to getting ready the night before by labeling our notebooks with our classes, many LHS seniors  filled up 50+ water balloons. Some students even filled close to 1,000 water balloons. Crazy, I know.
We incorporated camouflage because the seniors class thought it would be a good fit for everyone to wear. After everything was finally checked off our senior to do list, we headed to school to soak underclassmen, because that's what upperclassmen do, right? After all the tying and filling the balloons with water, we were told we couldn't throw them at underclassman so we threw them at each other.
It was awesome at the time; we got all muddy, wet, and even had paint smeared on us. We marched through the school with such confidence it was amazing. Finally, we were the top dogs of the school.
After the first day came the second day, then the third, and so on. People say the last first day of high school usually hits you right around the end of the day, but I felt nothing.  To be honest I won't feel a thing until I am arriving at college my first year because I will still feel as if I'm still a high school student and I have lots of time before I get older.
Freshman year I was nervous, didn't really know lots of people, and I actually found out a lot about myself, meaning I realized what sports I was going to do and what activities I would participate in. Sophomore year I studied hard and it showed. Junior year was time to pay attention and focus, for it was preparing us for our future out of high school, and finally, senior year came.
Before we know it, we will all be headed to college and then off to our lives and futures. In high school, you have the best times of your life. You meet new friends, you meet awesome teachers, you maybe find a boyfriend, you find yourself, and whatever it is, you have an awesome time doing every single bit of it.
I don't think realizing that I am a senior and will soon be going off to college will hit me at the football games in the student section, or our prom or even when we are all in graduation caps getting our name called up to the stage and graduating after these four great years.  I think it will finally hit me when I'm packing my bed sheets and old stuffed animals from home along with my parents shedding tears as they escort me to my new dorm room.  My new beginning for the next four years will be college and will be me trying to adapt to new surroundings.  Then finally I will really be remembering those last four years as I go off to create new memories to come.