The Newest Members of the LHS Staff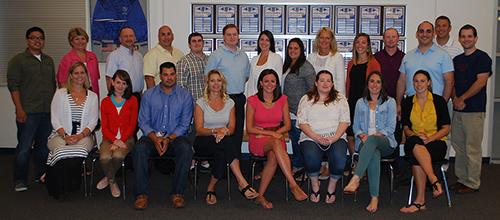 Emily Malecha, Staff Writer
September 6, 2013
Each student and staff member has been through the much-anticipated "first day" here at Libertyville High School and this year, LHS had 20 new staff members who went through this process.
Ms. Christee Joesten, a University of Iowa graduate, is starting her first year teaching here at Libertyville. Before she came here, she taught math and science for three years at a much smaller school in the rural town of Winnebago, IL. She was also the varsity dance team coach there, and there are a lot of differences at LHS from where she taught last.
"I really enjoy LHS so far. The students are great, they're always positive and motivated. It's awesome to see how many kids here go to college, a lot of kids at my old school weren't as motivated to go to school after high school," she said.
Another new staff member is Ms. Sarah Greenswag, who teaches government and U.S. History. Greenswag made the switch from Grayslake Central High School to LHS for her 5th year teaching. She is one of three new staff members in the Social Studies department along with Christina Solari (Social Studies) and Jackson White (Social Studies Student Teacher) who is teaching with Mr. Dennis Duffy and Mr. Matt Thompson.
Like many of us do for the first few weeks, Greenswag admitted to "walking in circles" for a little while, but now feels extremely comfortable and happy here.
"The kids are amazing and so welcoming, as well as my department. I'm really excited to continue to learn from the teachers and students around me and improve as a teacher," she said.
Greenswag also admitted that it's her first time teaching government, which is the class that she is most nervous about. Joesten, on the other hand, is excited for all of her classes and is mostly excited to get to know all of the students.
Each of these new staff members are bringing something new and interesting to their departments and the overall staff. The most new members are in the social services department, and they include Karin Beaumont (Special Services Department Supervisor), Marissa Frederick (Psychology Intern), James Brum (Special Services Teacher), Amanda Wine (Special Services Teacher), John Mortillaro (Counselor), Cori Beard (Special Services Aide) and Richard Kolze (Special Services Teacher).
As for other departments, in English there are a few new teachers: Jennifer Weiss, Christopher Thomas, and Timothy McIlvain. In  the music department there is Adam Gohr. Lastly, in science, LHS welcomes Emmanuel Aldana.
There is also a new face on the administration, Rita Fischer: the new assistant superintendent. There are multiple new members of the technology and IT staff including Donnalyn Warmbold (Data Support Specialist),  Andrew Shaffer (Library/Technology Aide) and William Warmbold (Computer Technician).