"Video Poker" and "Vertebrae" bring victory for two LHS seniors
Two of LHS's very own seniors, Trey Toohey and Alicia Caffero, won silver medals last month at the National Scholastic Art & Writing National Awards for their artistic pieces .
In addition to the wins of Toohey and Caffero, many LHS and VHHS students won gold, silver, and honorable mentions at the Midwest Region at Large Level. The two seniors won at the national level.  Also this year, 300,000 pieces of art and writing were submitted, and only one percent of these were recognized at the national level.
Toohey took home a silver medal with his glitched, shadowy, and unique photograph "Video Poker," which is meant to represent the idea of a video. In this photo, he is creating a "video glitch" out of the focal point, senior Arooj Ahmad, in accordance with the sign "Video Poker," which is featured in the background, hence the name.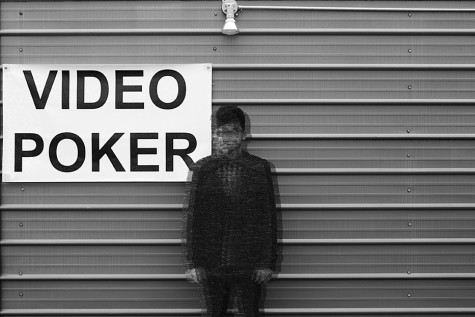 According to Toohey, he wanted to "distort subjects, mainly people, in correspondence with their background. Minimalism and simplicity are ideas that helped facilitate the growth of this concept. Here, the subject was distorted using different textures, proportions, shadows, and highlights to look like a video glitch."
Creating a photo as complex as this one is not as easy as cropping a few things and adding a filter. To produce this picture, Toohey took different layers from the original image of Ahmad, combined them with the rest of the photo, and then used Photoshop to control the textures of the image.
In AP Photo at LHS, students have to come up with a concentration of breath for their portfolios, along with photo projects and assignments. Concentrations are an idea that students come up with, and from there, they have to create  12 pieces of art that go hand-in-hand with that idea. The breath portion is all the elements and principles that make up the principles of photography.
For example, Toohey's concentration of breath was meant to take the focus off of the focal point and center it upon the background of the image (he has since changed his concentration).
With an award as large and renowned as the one Toohey received, not only him, but his AP photo teacher, Ms. Stefanie Dahlstrom,  is very proud of his accomplishment.
"I feel like it's just a very prestigious award and we're just so thrilled — he earned it, he deserves getting awarded for his work," expressed Ms. Dahlstrom.
In pertinence to his future and what he will do with photography, Toohey will be attending school in Montreal, Canada, at McGill University.
"I'm … just doing the liberal arts program, but I am going to try and take studio art classes; it's not a major but you can take studio art classes. It's more of a hobby, it's just fun for me, it's never work or anything like that," explained Toohey.
Toohey was not the only LHS student to win a silver award at the national level of competition; senior Alicia Caffero did as well for her jewelry piece "Vertebrae," which is an accurate representation of the human spine.
Made out of copper and connected by jump rings, this elaborate piece consists of 27 vertebrae, whereas the human spine consists of 33 vertebrae.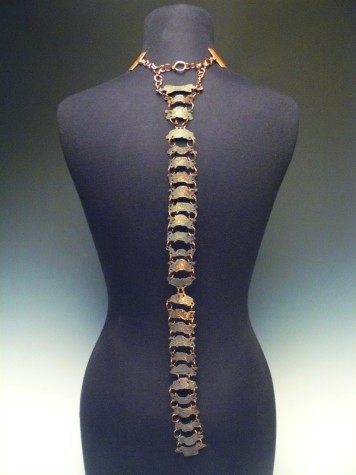 "I tried to make it an accurate vertebrae, but it was so intricate and there were so many pieces that I basically had to make a mold of the vertebrae — not like a 'mold,' but I took a bunch of pictures of the same human vertebrae and cut out multiple of them, and I had to put them together like a puzzle piece until it fit the length of my back," explained Caffero.
Creating a piece as intricate as this one proved to be quite time consuming and took her about two weeks to do, and she described the process of making it as "like putting together a puzzle."
As an AP Art student, Caffero had to come up with a concentration just as all her classmates must also do, and she has been working on hers for two years.
"I was just looking on the internet for references and stuff and I saw an anatomically correct heart, and it kinda just clicked, and I stuck with that for the rest of the time," said Caffero.
What's unique about Caffero's concentration on human anatomy is that it's not a very common one among students. Her teacher, Ms. Julie Johnson, has never seen anything like it.
"I have been teaching for 25 years, and so I see a lot of the same projects that kids go through processes and it's like a toddler developing. There's certain stages, right, that kids go through in life. Art is kind of that same way," said Ms. Johnson. "The kids will come up with an idea and they'll be very excited about it, but in the big picture, being 25 years in teaching I've seen it hundreds of times because it's part of the process that most kids go through. Alicia — I've never seen this before. No one's ever had this concentration, no one's ever done a spine. So for me as a teacher, it's pretty exciting because she's bringing to the table really original stuff."
Pertaining to the National Scholastic Art & Writing Awards, Ms. Johnson and Caffero are both very happy with the outcome of her submission.
"It's so cool. It's so…I'm just trying to think of the phrasing…just so reassuring I guess. I was so afraid that art was going to be really challenging and I was going to have to keep up with all these other people, but winning second place at nationals just made me feel that I had a chance, and that I could actually keep up with other people," voiced Caffero.
Caffero will be attending Savannah College of Art and Design and hopes to find a job  that will combine her two passions of writing and art.
As for both Caffero and Toohey, they share the thought that everyone should take an art class.
"I'd encourage people to take an art class. What I originally thought coming into freshman year was certain electives put you into a specific stereotype or a specific category, but it really doesn't categorize you. It makes you more of a well-rounded person, it gives you more to learn about," said Toohey.