What makes John Green's books appeal to teens?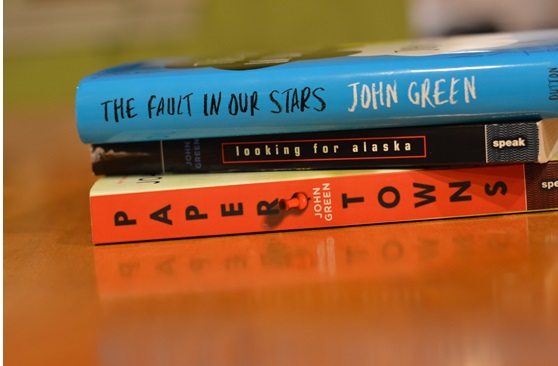 It is no mystery why "Paper Towns" by John Green is said to hit the theaters June 19, 2015, as stated on IMDb. "The Fault in Our Stars," another one of John Green's novels, crossed the $100 million mark in the box office, making it one of the most profitable films released in 2014, as reported on Deadline. According to Time magazine, "Looking For Alaska," also written by Green, is said to hit the big screens in the near future.
Most of Green's fans appear to be young adults. So the question is, why? What intrigues so many young adults to read his novels and watch his movies?
"'The Fault in our Stars' was so well-written that it led me to read five more of Green's books", freshman student Jenna Grayson explains.
The reason so many have related to this book was because it was meaningful, inspirational, and witty. "The Fault in Our Stars" also did incredibly well on the big screen, but how well did the movie actually portray the novel?
"I think the movie stayed true to the book and, I really liked that," freshman Megan Fahey stated. Although she wishes more scenes from the book had been included in the movie, overall Fahey thought the movie did justice to the book.
Fans are ecstatic about the upcoming movie based on Green's novel "Paper Towns," which is set to be released early next summer. Nat Wolff is cast as Quentin, a main character in the novel, making this his second appearance in one of Green's movies. Wolff was cast as Isaac, who was the blind, witty, loyal friend to Hazel and Augustus in "The Fault in Our Stars."
Quentin is quite the opposite. He is smart, careful, and determined. Since these characters are so different, but are played by the same person, it may be hard to disassociate them from each other. According to Fahey, the fact that they are so different should actually help people disassociate Quentin and Isaac from each other.
On the other hand, Grayson believes it will be hard at first to get used to seeing Wolff as Quentin. However, throughout the movie, Wolff will take on a whole new character, so people should get used to him playing a completely different role.
Some people are a little skeptical about Cara Delevingne, a successful supermodel, being cast as Margo, the main female lead in the book "Paper Towns." As stated on Daily Trojan, people believe she doesn't fit the character. However, others are excited that this goofy, cool, and confident woman was cast as Margo. Fahey has faith in Delevingne doing justice to Margo because of how well she believes Green did choosing the cast for "The Fault In Our Stars." Many models have to use acting when they are modeling, so it's no surprise that this successful supermodel got the main female role.
Interestingly, "Paper Towns" was published in 2008, over six years ago, but what makes it popular now?
"I think it's because of John Green's popularity as an author, especially with "The Fault In Our Stars" being so successful. Fans of John Green probably want more of his books to read if they were fond of other books by him, such as Paper Towns". Grayson responded.
"The Fault in Our Stars" seemed to be the gateway book to his other novels.
According to Time Magazine, "Paramount" has signed actress and filmmaker Sarah Polley to adapt Green's "Looking for Alaska" into a movie. When Grayson was asked what her favorite John Green book was, she responded instinctively with "Looking for Alaska" because of the interesting characters. "Looking for Alaska" will most likely not be made into a movie this summer, but it will be soon, and people are eagerly counting down the days until that happens.
Even though Green's novels aren't series like Harry Potter and Twilight, they still capture the attention of many young adults, which is hard to do.