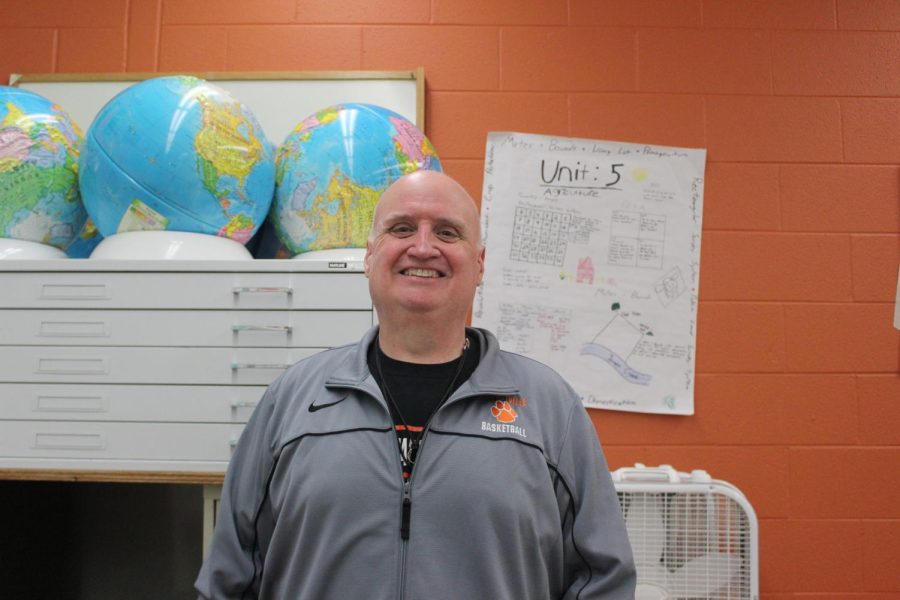 There have been many teachers who've taught at LHS. Some have been teaching for decades, while others have just started. This year, a number of teachers are retiring from their teaching positions at LHS, including Mr. Mix, Mr. Roegner, Mrs. Belstra, Mrs. Mascia, Mrs. Thumm, and Mr. Lapish.
Mr. Lapish – English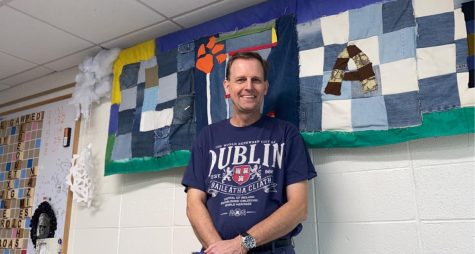 What's been your favorite LEAF project?
Building the courtyard and constructing has been the most enjoyable activity because it's been long term. Lots of kids have been excited about it, and lots of students have been involved and participated in so many different ways, so it's been fun to coordinate it. [Overall], it's been fun to see students' enthusiasm and participation in a variety of different ways.
What are you ultimately hoping to accomplish in LEAF?
Since I'm retiring from teaching, I will be continuing to probably be the LEAF advisor or at least assist in LEAF advising, and we're still trying to finish up the courtyard job. I'm hoping that as the club continues, they can continue to find activities for students to get involved in. I think that's the one thing that I've discovered about being the LEAF advisor is that doing stuff with your hands and being a part of something that's concrete is really something that students need.
What are some of your favorite memories of LHS?
At the end of the year, I enjoyed organizing kickball games with the freshmen. And in the process, I have students designing the T-shirts. This year is no exception, and almost every year, students have designed T-shirts for every freshman class. Some years the kickball games have been rained out. But just looking at the shirts, the shirts are just fun. The students design them and once in a while you have to edit them because sometimes they're slightly not appropriate. But for the most part, they're a lot of fun.
What are your post retirement plans?
I don't have any particular plans to do anything. I might get involved in some of the forest preserve nature conservancy, or what's called "Open Lands" activities. I might get a small job just to keep myself busy. I will probably do a little traveling here and there. I don't have any particular plans after that, but I know I'll keep active because I can't just grab my golf clubs and just golf all the time.
Ms. Mascia – Physical Welfare
What do you like about LHS?
I have loved LHS from the beginning because I feel like the minute I started working here, and I have always said this; I used to have a job. And when I started working here, I felt like I have a career and those are two really different things in my opinion, because when I got here, the community [parents, students, and my colleagues] were so welcoming. And [I liked] really being respected; I think that was a game changer for me.
What have you liked most about being a department supervisor?
What I really love the most about being department supervisor is being able to go in and out of so many different teachers' classes, and really seeing how they work best with kids. That's been really cool, because when you're just the teacher, you pretty much stay in your own classes doing your own thing, and you don't get the experience of seeing how amazing everybody else is. So that's what's always been the best part of my job is being able to go in and out of everyone's classes and see how great they are.
What did you enjoy about being able to coach softball and volleyball in the past?
I loved coaching. I loved connecting with my team outside of the regular school day. I think student athletes get a different perspective of you as a teacher-coach, and I get a different perspective of who you are outside of the classroom, so that's been super awesome. In volleyball, we were able to work with Coach Rosina, who was also the varsity coach. She and I brought a team down right there in 2007, and we took them all the way down to state so that was super fun. But just seeing the progress of the whole program and stuff [has been great]. Both softball and volleyball have been my loves for as long as I can remember. I've been a volleyball coach for over 20 years and same with softball, so it's been super awesome. 
Ms. Belstra – Student Services
What's been your main job at LHS?
My title now is post secondary counselor. I used to be the College and Career Counselor but I just felt like post secondary encompasses a little bit more because not everybody goes off to college. I am the resource for all students when it comes to their life after high school for whatever that may be. 
What's been your favorite part of your job?
I know it's cliche but I do this job because I love you guys. Watching the process and watching you go from 'I don't have a clue about what I want to do,' to 'I have a decision, I have a path,' and figuring everything out in between and helping to ask the right questions… I love that part in trying to challenge you to push yourselves a little bit more too.
What are some of your post retirement plans?
Well, I tell everybody that I'm taking a gap year just to kind of figure my life out, but I have a new RV, so I plan to do some serious traveling. We've (my spouse and I) already got a few trips planned. I will be back in Colorado in September going to a Red Rocks concert. 
Mr. Mix – Social Studies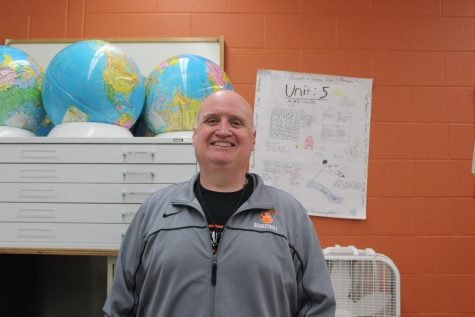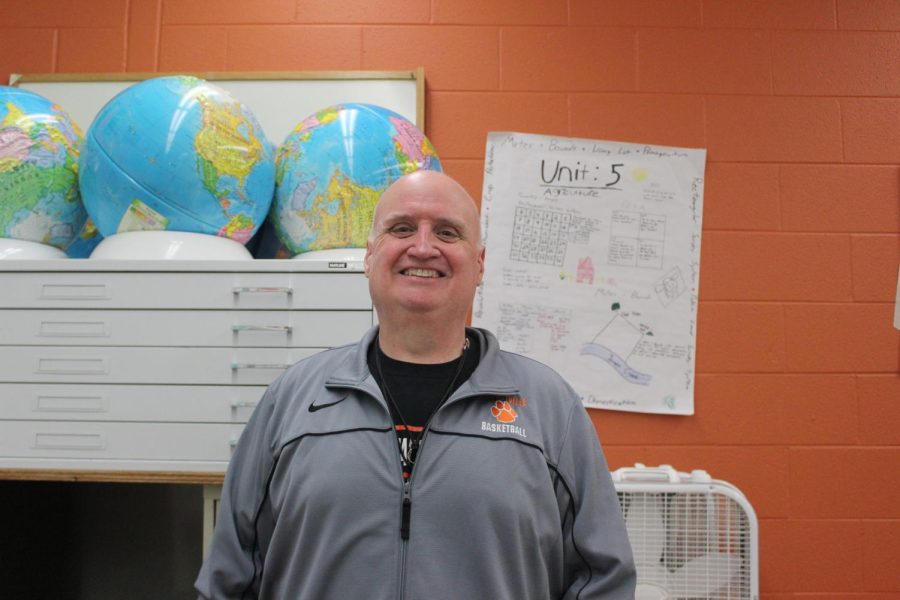 How did your teaching methods change over time?
I teach geography so my classroom used to have a whole bunch of pull down maps. Now you can just pull them up on the smartboard and write right on top of them and do whatever you need to do. So that's made it a lot easier [and] it's more interactive. You [can] get the kids on Kahoot and interact with them and have them answering the same questions in a fun manner, so I think it's made it more interesting, but it's taken away a little bit of the personalized methods of instruction. [For instance], I'm good at one thing and other teachers good at another, but now we're all pretty much standardized into using whatever the new technology is. So, I don't think there's a lot of diversity in instruction, even though there are more tools at our disposal.
What's been your favorite memory/memories of LHS?
I think my favorite memories in general are seeing where kids have ended up. I have a lot of former students that have families and who are working all over the country. There's going to be a retirement party for me in June, and I have a bunch of former students that want to come and they're all adults with families [now]. I had two sets of kids that met each other in my class and now they're married. So, I have two couples and all four of them are coming and they met in my class they said freshman year. I've got the kids of my first year student-teaching in eighty-nine, [and] I've got their kids who are going to be in my last class this year, which is all very cool. I just like seeing them as they've grown up and seeing what they've done with their lives. I think that's the best part.
What did you like about teaching geography?
You can teach everything about the world and make it a geography lesson. There isn't anything that is really off limits. We have our curriculum, but I mean, I was teaching the morning of 9/11. I sat right here and I saw it happening and I had to teach through it. I taught through the Columbine school shooting. So, I've taught through a lot of things and I taught through the pandemic, and all of them presented different problems, but it was really fulfilling to help get students through that.
Mr. Roegner – Math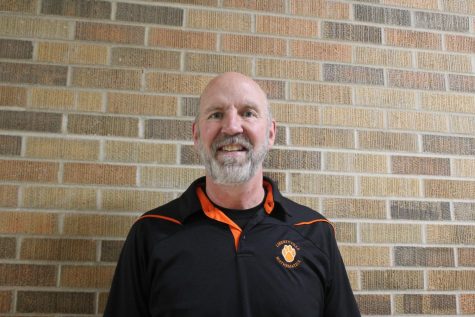 What do you like about teaching kids?
I guess just helping them learn and understand math, which for some kids can be a challenging subject. I try to take that fear factor away the best I can. Building relationships with kids [has] been great as well.
What's your favorite unit to teach?
My favorite unit I think is the optimization unit that we do in Precalculus where the kids actually get to apply what they're learning to see how we can redesign boxes to be more efficient so we're not wasting material.
Is there any advice you want to give students?
For students, I'd say take advantage of all the opportunities you have here at Libertyville High School, whether it be athletics, classes, or extracurriculars. Get involved and build those connections with other people. I know it's been trying times coming out of the pandemic and that some kids can feel lonely or disconnected, so I encourage them to get connected. I told my daughter when she went off to college that the best way to make a friend is to be a friend, and so [students] need to do that. They need to reach out to other people.
Mrs. Thumm – Special Services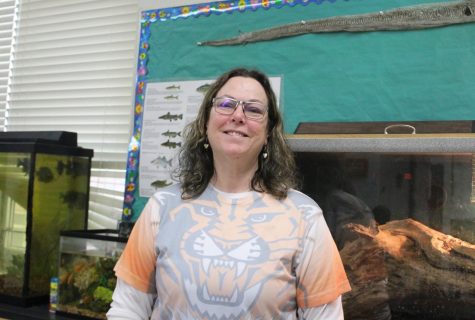 What do you teach at LHS?
I'm actually a case manager, which means I have kids coming in with various needs, which includes anything from students with autism to simple learning disabilities, specific learning disabilities, and pretty much everything in between. I help support them so they can be successful here at school, which feels extremely fulfilling. 
How do you support your students in class?
It's a lot of communicating with teachers to find out what they're struggling with in class, and it's a lot of paperwork. I usually have anywhere from five to eight students in a class and I monitor their grades, check to make sure that they're getting help, and that they're meeting with teachers. I'm [also] communicating with parents, and I'm helping [students] devise study skills that are specific to them. [These are] not just generic study skills like everybody gets but, [for instance], the study skills for a student who is dyslexic are different from the study skills for somebody [else]. 
What's one of your favorite LHS memories?
 I have to say one of the things I will never forget is a bunch of us going down to state for the football team [around] 2002 when the football team won state. Most of the starters were on my caseload. It was a heavy special education presence on that football team, but they won state. And those guys have been playing together, I think, since they were little kids. That was a really, really fun group of boys that year. And yeah, I'll never forget that. 
Why do you think your job is important?
It's important to play this role here because it's so wonderful to see how the kids [grow]. They come in as freshmen and they're just frustrated and overwhelmed… I have students [right now] who are seniors who are incredible and they are going to do so well when they graduate high school. They were really needing a lot of help when they were freshmen, but now they're going to graduate being completely independent…I don't always keep the same kids every year because of scheduling issues, but I tend to keep in contact with all of them. And sometimes I'll have them freshman year and then again junior and senior year. I'm going to miss that part of the job.
Note: This story was revised from its original form in the magazine.