School Prepares for Hybrid Model as Reactions Vary
On Monday, Oct. 5, the District 128 Board of Education voted in favor of implementing a hybrid learning plan for Libertyville and Vernon Hills High Schools for students who wish to return to in-person school. 
Although administering a safe and effective plan to ensure the safety of students and staff during the COVID-19 pandemic is challenging, the administration believes it has successfully created a hybrid schedule and proper safety guidelines. 
LHS principal Tom Koulentes explained that students who plan on shifting from remote learning to the hybrid model will be asked to watch several educational videos describing the proper procedures on how to return to school safely and maintain proper social distance. Students who do not follow social distancing guidelines could "face school consequences and if a student [continues] to not social distance, that could result in them either being sent home or even them forfeiting their ability to participate in hybrid," explained Dr. Koulentes. 
In order to reduce the spread of germs, the school will be cleaned regularly using a winter protocol, in which all commonly touched surfaces will be disinfected every night. During each class period, students will be encouraged to wipe down their learning space and use hand sanitizer to limit the spread of germs, Dr. Koulentes said. He added that cleaning crews will be circulating around the school often, specifically to target places where the virus can easily spread, such as restrooms and other commonly used areas. 
Dr. Koulentes explained that LHS has also designed an air handling system to limit the spread of aerosols, which will be cycled outside during the lunch period. During that 50-minute time period, the high school will undergo an "air purge, where […] all of the old air is removed and 100% new, fresh air is inserted into the room," explained Dr. Koulentes. "That way, when [new] students come in the afternoon, they are entering a building where all of the air has been turned over and brand new air has been put in place."
As schools locally and around the nation have seen outbreaks of the coronavirus as students are transferring to hybrid learning, the administration has a plan to prepare for such an outcome. Dr. Koulentes said that if a student or staff member were to be exposed to COVID-19, the administration would immediately inform the school nurses. These nurses would then contact the Lake County Health Department and follow their guidelines. 
From there, the administration would contact those who have been in close proximity of the infected student or staff member. Close proximity is defined by the CDC as being within six feet of another person for more than 15 minutes. As a result, a two-week quarantine would be required. 
If the virus were to spread to a group of people, "we [would] need to shut down [the] school for 48 to 72 hours because […] we need to clean that area and make sure everyone is safe," said Dr. Koulentes. "The worst situation is that we have a larger outbreak with somebody or students that have travelled all around the school. In those situations, we may have to close school for two weeks."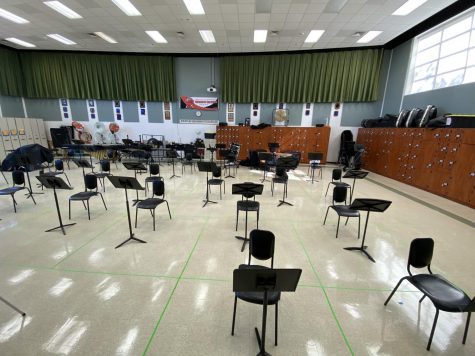 Mr. Adam Gohr, a band instructor, has already returned to school to teach in-person classes. Due to the nature of the band, additional precautions are being taken.
In order to limit the spread of aerosol particles, "we are all wearing a special playing mask that has a little flap in it, so that we can put our mouth pieces and instruments through it, but keep most of our noses and mouths covered," said Mr. Gohr. In addition, all of the instruments will have bell covers with a MERV-13 (Minimum Efficiency Reporting Value), a type of air filter designed to catch aerosol contaminants.
Furthermore, Mr. Gohr said he has many air filters around his room cycling in fresh, outside air and has sectioned off his room into grids to make sure his students social distance. 
Students have expressed varied reactions to the Board of Education's decision.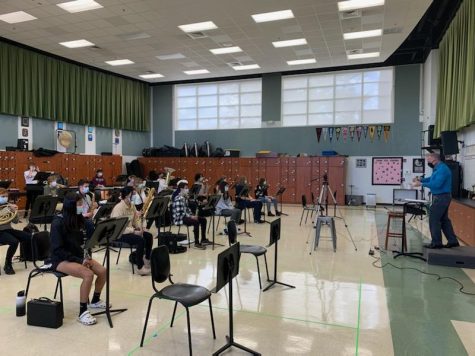 "I was very excited personally because I don't learn well online and my grades haven't been as good as they normally [would be]," senior Elena Kafkis said. "So I'm excited to go in-person and get that in-person contact." Kafkis added, however, that she thinks the split of students into A and B groups, both coming in each day, could become a bit "chaotic."
Other students are disappointed. 
"I was pretty upset about it. [My family was] watching the board meeting and […] I knew that they were talking about a possible plan, but I did not know that it would actually be voted on," said a senior female student who wished to remain anonymous in order to avoid backlash. "I think it came very suddenly and just by a lot of pressure from the community, and I wish that it didn't happen as fast. I think that they should have waited until the end of the semester. 
"People are going to be going around the country to meet up with family. I know a lot of people who have left the state and town and have not followed the two-week quarantine mandate," she added. 
Especially with the holidays and flu season approaching, the anonymous student said that these activities "will bring a lot of germs, and I don't want that getting spread around."
Leave a Comment