Disney+: A streaming service for all things Disney
Disney+ is a new streaming network that features everything that Disney owns. Subscribers can spend hours watching their favorite childhood shows, like "Wizards of Waverly Place" or "Hannah Montana," or watch all 23 Marvel movies.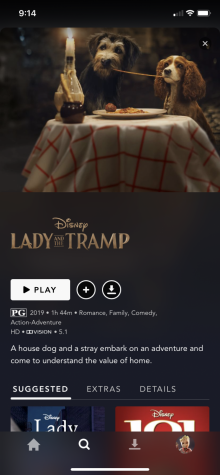 On Nov. 12, Disney launched this streaming service — which costs $6.99 per month — leading to every other streaming service, including Netflix and Hulu, having to take any Disney-owned content off of their sites. In addition, Xfinity On Demand now requires viewers to pay for Disney content. Out of all 195 countries around the globe, only five currently have access to Disney+: Australia, Canada, the Netherlands, New Zealand, and the United States. However, on March 31, 2020, most European countries will also have access to Disney+, including, but not limited to, France, Germany, Italy, and Spain.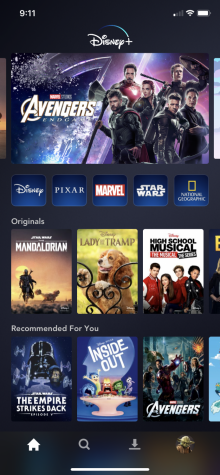 There are a few new Disney originals that were released with the launch of Disney+. One of these is the new show "The Mandalorian," which is based around the classic "Star Wars" franchise. The show follows the story of The Mandalorian, played by Pedro Pascal, a lone bounty hunter. As of Nov. 21, two episodes have been released on Disney+ and six more episodes are planned to be released before 2020.
Another new TV show released on Disney+ is "High School Musical: The Musical: The Series." Some people thought that this show would take place within the HSM series, just with new actors, but the show is actually about kids who are a part of the Drama Club at East High. The kids are shown as they prepare to put on their school's first-ever performance of "High School Musical." The show has 10 main cast members with six recurring cast members. Just like "The Mandalorian," "HSM The Series" has two episodes out as of Nov. 21; eight future episodes are queued with air dates, the last of which will be aired on Jan. 10, 2020.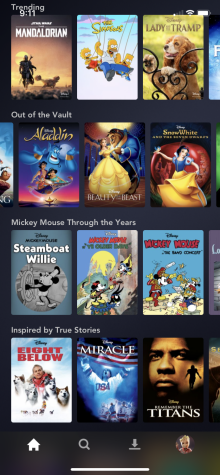 Currently, there are 11 devices that can be used to watch Disney+: Android,  Apple TV, Chromecast, Fire TV, iOS, LG Smart TVs, PlayStation 4, Roku, Samsung, web browsers, and Xbox One. On each device, there are choices of more than 300 live-action films, over a 100 animated films, 80 Disney shows, eight Pixar films, all 19 Star Wars-related films and shows, the 23 main Marvel movies plus 22 other Marvel-related media, 54 National Geographic documentaries and all 30 seasons of "The Simpsons."
As of Nov. 25, Disney+ has a rating of 4.2 out of 5 stars on Apple's app store; 35,767 people have reviewed the app and a majority of the reviews, even the ones that don't give five stars, start off saying that they love the new site.
One major problem that many people are dealing with, and the main reason for these people giving the site one star, is that every time they log into their account, they receive an error code. GamesRadar+, an entertainment website, has a guide for what to do if you receive an error code while on Disney+. Their first tip is to contact Disney+'s help center. However, if that still doesn't work, they have some other tips on how to fix the errors. Also, before they list the error code fixes, they bring up the fact that their tips will not always work 100 percent of the time.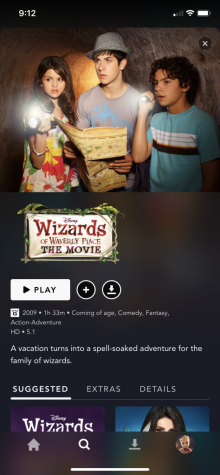 On a better note, US mobile and Verizon phone companies are offering a free year of Disney+ to some of their customers with specific contracts. Plenty of reviewers on the app store have expressed that they love the free trial, as is gives them a lot of time to think about if they want to keep the subscription or not. 
However, some customers have already made their choices. Plenty of people who have given Disney+ a one-star review have stated that once their year is up, they will not be keeping it; the top two reasons for this are there are too many bugs on the app and that the app doesn't always work for them. Some customers can't use the app at all because it instantly cancels them out, and they are only able to use the website, they said. And even then, they still struggle with the login.  At the moment, the only response Disney has given is that they "are working to quickly resolve the current user issue."
Leave a Comment