LHS hosts "Military Interest Day" for D-128 students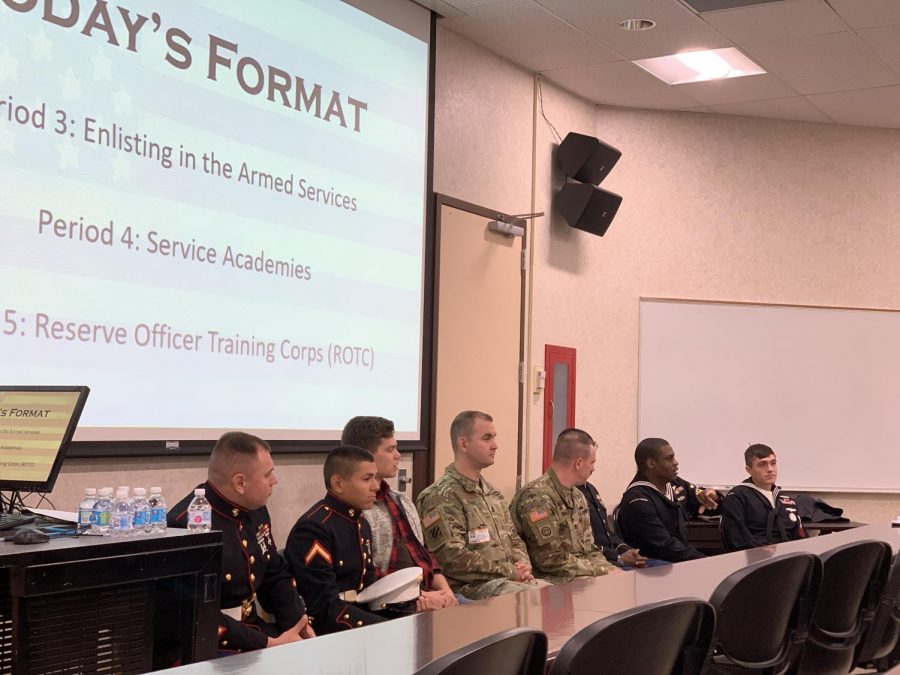 LHS held District 128's second "Military Interest Day" on Tuesday, Nov. 12. Based on their interests, Libertyville and Vernon Hills students looking to enlist in the armed forces could attend any combination of the three presentations offered.
Presenters from different military branches were scheduled to talk about enlistment, service academies and Reserve Officer Training Corps (ROTC) during third, fourth and fifth periods respectively. Speakers ranged from those starting boot camp within the next week to those with years of experience serving activity duty. 
The breadth of perspectives allowed for students to witness several paths they could potentially take in their future. Some talked about continuing more traditional higher education along with their service, while others opted to serve full-time at the soonest possible opportunity. When introducing themselves, each of the speakers talked briefly about some of their motivations for joining the military.
One of the recruiters, Sergeant First Class Justin Gullion was from a military family. In addition to being surrounded by people who had served, he stated that 9/11 was a major driving factor in his enlistment. Gullion signed up without hesitation his junior year of high school.
In contrast, former LHS student Noah Giles detailed that he needed much more time to make his decision. After graduating high school, he mentioned partying in college and frequently hanging around the wrong people. Upon further reflection, Giles chose to enlist in the military to strive to be the best person he could be.
Despite the variation in their backgrounds, each had valuable insights for prospective members. Whether they were from the Marine Corps, National Guard, Navy or Reserves, the recruiters all emphasized the importance of making well-informed decisions. Students were encouraged to reach out to representatives of multiple branches to see which would best suit their individual interests and goals.

Meeting the physical requirements of the military is a must regardless of the branch. If deemed physically fit, most of those considering to serve are required to then take the Armed Services Vocational Aptitude Battery. This test is divided into several subsections like word knowledge, mechanical comprehension, general science, and math knowledge.
Students were informed that the test is integral because it determines which occupations they are eligible for. However, qualifying is just the start. After being tested and sworn in at a Military Entrance Process Station, there is a rigorous training process unique to each branch. In addition to enduring the physical strain, members must show an exceptional amount of mental fortitude, the recruiters said.
 The recruiters expressed that it was honorable that the students present even demonstrated interest. Only a very small fraction of the U.S. population — less than 1 percent according to the Council on Foreign Relations — chooses to serve their country in this way. The "Military Interest Day" allowed students to familiarize themselves with the processes necessary to explore something outside the traditional path.