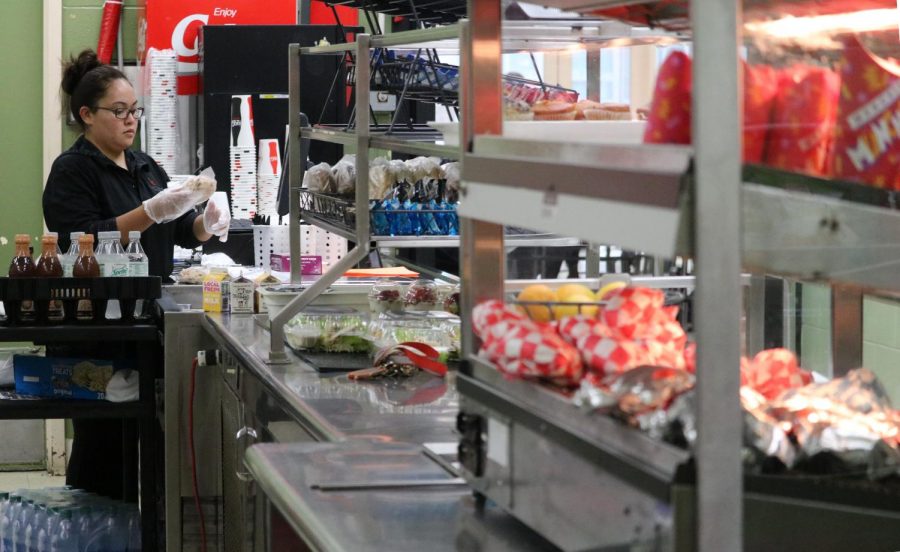 It's lunchtime—you walk into the lunchroom, and you're instantly greeted by the enthusiastic servers behind the cash register, on the other side of the deli line and in the kitchen. These are the workers who make sure students and staff have to lunch available day in and day out. But have you ever wondered what their lives are like outside of the kitchen doors? From dancing to boy scouts, to gardening, the lives of the lunch staff here at Libertyville are family-oriented and involved. 
Outside of the Wildcat family
Every member of the cafeteria staff interviewed for this story said they consider the students and staff their family. However, they also have families of their own who keep them just as busy. 
Lynn Lazarski, one of the cashiers on staff, has been married to her husband for 41 years and has been with him since she was a freshman in high school. They have three married sons, along with four cats. "I pretty much dedicate my life to my family," stated Lazarski. 
 Similar to Lazarski, cashier Maria Tamayo is super close to her family. She spends Friday and Saturday nights having movie nights with her husband, along with her two sons and daughter. She said she loves to spend all of the extra time she has with her family, whether it's in the theater or at home. 
Melissa VanLue, also known as Chef Mel, the manager of the cafeteria staff, has an 11-year-old son who plays three different instruments as well as is heavily involved in boy scouts. She admitted that her hands are kept tied outside of work, driving him from place to place and making sure he gets where he needs to be. 
Deborah Wright, a worker in the deli line who goes by Debbie, has children in their 30s, and though they're not at home anymore, she loves to crochet for them in her free time. "It's how I am, if you get married, or you have a baby, you're gonna get a quilt or you're gonna get clothing from me that I've handmade," she said. 
Beyond the Lunchroom
Along with crocheting for her family, Wright said she enjoys making quilts, blankets, and scarves for women who have been abused, as well as single moms, through her church. 
When VanLue, who was recently hired for her position, isn't in the cafeteria at the high school, she brings her culinary skills back home to her family.
"When at home, I'm always in the kitchen, cooking or watching food shows, always trying something new," she expressed. VanLue is not the only one passionate about working with food outside of her job.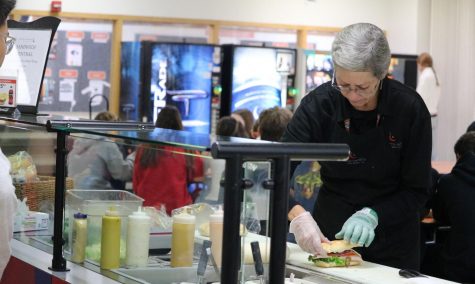 Wright enjoys gardening in her spare time and said she tends to her organic garden whenever the weather is nice. She is very mindful of health in foods and expressed that she enjoys working in the deli very much because of the healthy food options it offers. 
Outside of the kitchen, Lazarski elaborated that her favorite thing to do with her family is play games, particularly card games. When Tamayo isn't working behind the cash register or at the movie theater, you can probably find her on a dance floor. She has enjoyed dancing since high school, when she joined her school's dance team. "We used to do all kinds of tricks; I have just always loved dancing!" Maria exclaimed in an interview. 
Biggest perk of the job 
Despite the different hobbies and interests of the cafeteria staff, they all share one thing—their love for the students and staff at LHS. The cashiers all voiced that interacting with the friendly students is their favorite part about working at Libertyville.
  "I love to serve all of the wonderful students and listen about their days, weekends and special events, or even if they just need to vent," Lazarski expressed. She also admitted that she "get[s] a kick out of the boys who always pretend to give [her] a hard time; they think they are real comedians," she said.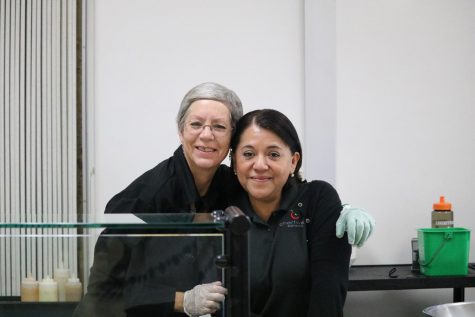 Wright added that part of the reason she enjoys her job so much is because the students "keep [her] young," and that the smiles on the students' faces help her to keep a smile on hers. 
"When kids come up and I say 'good morning!' and [they] say 'good morning' back, or 'hello, how are you?' it makes my whole day," she expressed. 
In her new role, VanLue said she is doing everything she can to ensure that no requests go unheard and to prioritize the dietary needs of all students. 
 "I want the kids to know that I am here for them, so any issues, any comments, any food they want to see on the menu, I'm here to listen," she said. 
VanLue added that the staff is now working on cooking healthier options, as well as making more food from scratch, making sure there is something for every student and staff member at the school. 
"I love listening to everyone's requests about food items or drinks they'd like to see, and I really do try my best to get every wish granted," she said.