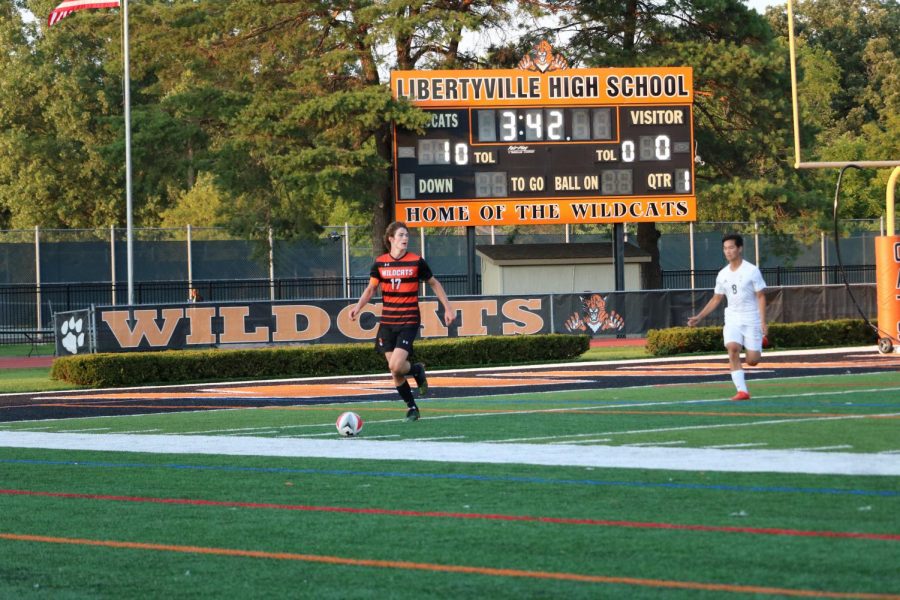 On Thursday, Sept. 5, the boys soccer team matched up against Grayslake Central at home for their fourth game of the season;  Libertyville came out on top with a 3-1 win, making the Wildcats 4-0 to start the season.  
With that win, the Wildcats advanced to the championship game on Saturday, Sept. 7, which they won 2-1. This is their third consecutive year winning the Northshore College Showcase tournament. 
On Thursday, Senior Mickey Reilly was first to score, with junior Will Herbek getting the assist. Not long after, senior Jacopo Franciosi was able to get to the ball after a scramble, putting the Cats up 2-0 in the first half of the game.  
Grayslake was not ready to give up though, as they scored the first goal of the second half, thanks to Christian Hinestrosa.  The game was tight through the second half, the ball moving from one end to the other constantly, both teams trying to take over control. Reilly scored again with 10 minutes left, getting through defenders until he was close enough to the goal to poke it in, giving the Wildcats a 3-1 lead. 
Despite the win, Reilly, over email, expressed his frustration with the game: "After the game, we were definitely disappointed. We didn't have the best game and we didn't play anywhere close to what were capable of. We have to go into games like we're playing the best team every time."
Heading into this season, the Wildcats — who have finished second in the state two consecutive years — lost eight of their 11 starting players, all of whom graduated. Reilly and Patrick Graham are two returners to the starting lineup, while senior Brendan Quigley is out because of a torn ACL. Quigley contributed a lot last year, but got hurt over the summer while playing in a game.  Quigley is still in recovery and will be out the rest of the high school season. 
Being a team with mostly juniors, the Wildcats hope to grow and connect as a team moving forward through the season. They plan on doing this with leadership from Reilly, Graham, and Luke Underwood, who are the senior captains this year. With this, they hope to bring positivity and a level of play that they use to lead by example for their younger teammates. 
"There are a lot of big guys gone. Our experience was at the max going into last year. I am really impressed and happy with this new young team. This is a totally new team and [the returning players are] doing a good job of leading," said Reilly, who plans to continue playing soccer in college.